Is constant pain part of your daily life?
Have you suffered from sinusitis symptoms for 12 weeks or longer? If so, you may be suffering from chronic sinusitis. The long duration of this condition can have a major impact on your lifestyle and livelihood. And, although the costs of medication and doctor visits can be high, the loss of productivity and leisure time can be even more distressing.
Chronic sinusitis describes a persistent swelling of the sinus and nasal pathways that prevents normal drainage, leading to a build-up of mucus, infection, and the painful symptoms associated with sinusitis.
---
Symptoms lasting 12 weeks or longer
Facial pain & pressure
Headaches & Fatigue
Bad breath, pain in upper teeth
Low fever
Congestion or stuffy nose
Thick, yellow-green nasal discharge
Get lasting results
Has medical therapy been largely ineffective? Looking for a less invasive alternative to traditional sinus surgery? Balloon sinus dilation may be the right solution for you. This in-office procedure under local anesthesia opens the sinus pathways with a small balloon to restore drainage.
Balloon sinus dilation
Patient Perspective: Quality of Life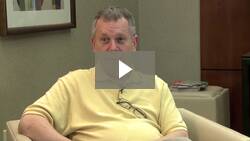 Are your sinus headaches hard to manage? Learn how Vernon regained his quality of life.